Chocolate Chip Focaccia kit - Gluten Free - 300 gms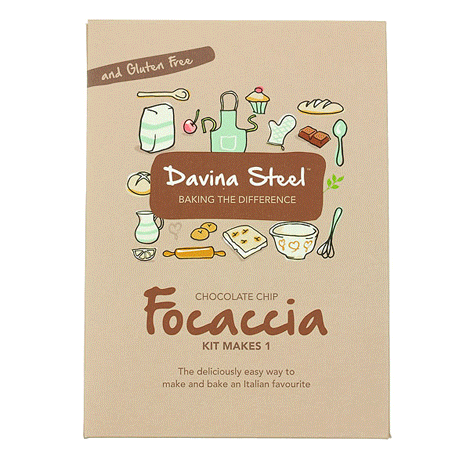 Chocolate Chip Focaccia kit - Gluten Free - 300 gms
If you've ever had Pain au Chocolat, then you will fall in love with our chocolate chip focaccia. It has all the deliciousness of that French Lovely, without the crumbs. It's also crazily easy to make. As with our other focaccia, it has an unctuous flavour and texture that makes you want to tear chunks off and scoff as quickly as possible.
As any chocolate lover will confirm, this little baby goes well with … pretty much anything. At any time of day.
Kit contains 1 x 300 gm mix and a pack of rich chocolate chips that melt just enough to ooze through your bread.
Breakfast? Tick.

Mid-morning snack, with a banana? Tick.

Lunch box favourite? Oh yes!

After school or work munchies whilst dinner is cooking? You bet!

Pre-bed supper with a warm drink to last you the whole eight hours of fasting? You'd be daft not to.

Super-hungry? Toasted with a dollop of ice cream? Aw man!

What else will I need?

A mixing bowl

Spoon or mixer

7 g of fast acting yeast

300ml warm water

Salt to taste (if you wish)

30ml oil, plus more for top

Sugar for sprinkling on top, if desired

20cm square or round baking tin

Ingredients

Potato starch, tapioca starch, white rice flour, cornflour, sorghum flour, chocolate chips (cocoa mass, sugar, cocoa butter, fat reduced cocoa powder, soya lecithin), vitamin C, egg white, chocolate chips, baking powder, yeast, xanthan gum, sugar